Click is giving away a BYD Song Plus car and many other prizes!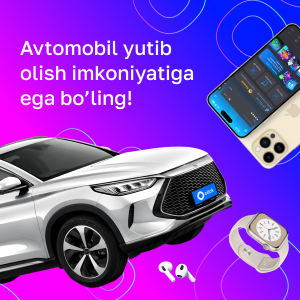 Take part in the grand promotion from Click - get the opportunity to win one of the main prizes - a BYD Song Plus car, IPhone 14 Pro Max smartphones, Yandex Station smart speakers, Apple Watch smart watches, and Air Pods wireless headphones!
Want to participate?
1. Pass identification in the Click Up application if you have not passed it before
2. Go to the "Promotion" section and click on the "Participate" button
And that's it! After that, the user automatically becomes a participant and gets 1 chance to win the main prizes.
The main task of the participant is to accumulate as many chances as possible to win one or more main prizes. You can accumulate chances by inviting friends using your promo code.
One gets chances for his own identification and invited friends through the link.
And also, as a bonus, the user will have access to the wheel of fortune, which he can spin and receive an instant prize - chances, prizes from partners, small prizes from clicks.
Don't want to wait? Spin the wheel of fortune and get guaranteed prizes now.
Invite your friends to participate and get additional chances to participate in the drawings!
Important! Only identified users are allowed to participate in the promotion.